In an era where most businesses are reliant upon the internet, Search Engine Optimisation (SEO) has become a good way to gain online visibility. It ensures that your brand credibility remains high and your return on investment continues to rise.

But, how do you measure the success of your SEO efforts? Is it even possible to track whether SEO has actually reaped any credible results?

In reality, there is a set of specific parameters which can help gauge the effect SEO has had on a business's progress. These measures are commonly referred to as SEO KPI (Key performance indicators) or SEO metrics. Their primary job is to enable you to evaluate the success or failure of your SEO activities. They can be both, qualitative and quantitative in nature.

Though there are numerous SEO metrics available at your disposal, there are only a few which can present an accurate, fruitful, and precise picture. These include:
Organic Traffic

One of the most important SEO KPIs is organic traffic. The ultimate objective of an SEO campaign is to drive traffic towards your site. If this traffic is driven via organic search, it is all the more valuable. In order to track this, you need to set up google analytics on your website. Under its acquisitions tab, you will come across 'sessions'. Use these to calculate your campaign's performance over different time frames. A more in-depth month over month traffic will provide a different perspective. You may want to analyze traffic demographic wise and device specific to find more insights.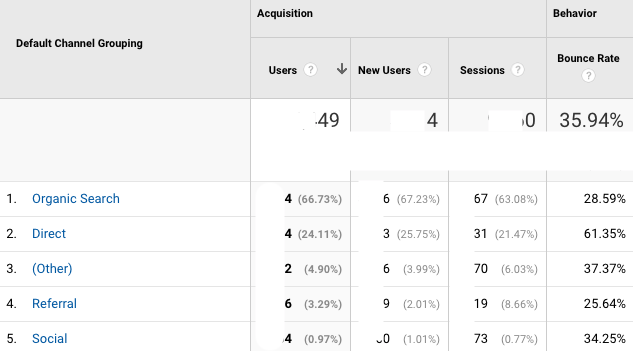 Keyword Ranking
Most people tend to click on the first page which shows up as a result for a particular keyword. Therefore, for each keyword, where your website is ranked in the search engines, it makes a huge difference in terms of traffic diverted, leads generated, and customers converted. To see which keywords are driving traffic to your site, you need to install Google console and visit its search analytics section. This would display your average organic position for different keywords.
Click-Through Rate
Google Search Console (GSC) is an extremely helpful tool to generate reports on:
– The percentage of people who have clicked on any one of your links after having seen them featured in the search results is termed as the Click-through rate (CTR). Measuring it enables you to know whether your website is appealing enough for the audience.
– You can check the CTR by both, the landing page and the keywords. If the CTR for either one of them is low, try and find out why. Usually, it is because of irrelevant or unengaging content.
– You can also use GSC to examine the number of clicks/impressions which you have received on your website. These could be entirely different for text, videos and images. Try and optimise these by bearing your target audience in mind.
– Moreover, GSC is a great instrument to assist you in finding out which specific search terms have driven traffic to your site. In fact, you can even see the devices which have sent this traffic your way.  However, if you want to know more details like the search volume, Google Trends will be a more useful device.
Back-Links
Apart from the quality of your content, back-links and referring domains are one of the most significant SEO KPIs. To begin with, the total number of back-links leading to your website should be high. This should further be supplemented by the relevance of the sites which are linked to you. Without a relevant context, Google might just construe these domains to be spam. The diversity of the referring links is a vital factor too. The more varied the websites linking to you are, the greater your visibility. There are many tools available to check the backlink profile of a website. I would personally suggest Ahrefs for this activity.
Website Health
This is one of the most ignored KPI's of an SEO. Lately, SEO has evolved into a more technical subject where UI/UX play a vital role to determine the success of your website. It's essential for a site to pass the basic usability test. Imagine if a real-world user is having difficulty navigating your website how would a Google bot be able to work through your website. SEO has to closely work with the product managers create mockup architecture and features to provide the best landing page experience for the user.
Bounce Rate
Forming an essential part of SEO metrics, bounce rate signifies the number of times a visitor left your site without interacting with it at all. This goes on to show how useful your website is in terms of user interest and engagement. If you want to know what the bounce rate of your site is, Google Analytics is the best tool to utilise. It shows the overall bounce rate for every channel/page.
Apart from the aforementioned, a number of other SEO KPIs can render productive assistance based on your needs and requirements. These include average page load time, indexed pages, organic click-through rate, and pages per session.
Parting Words
Irrespective of which SEO metrics you employ, the success of your business will entirely depend upon the strength of your website to facilitate user interaction and accelerate customer retention.This is why it is pivotal to fundamentally deploy search engine optimisation as a mechanism to expand your reach and increase access.